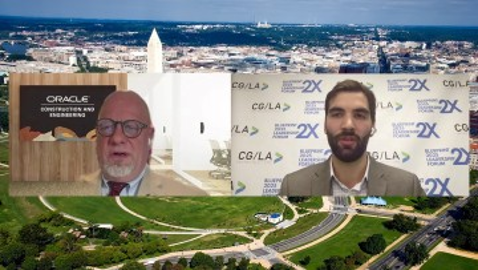 Description
Sponsored by Oracle Construction and Engineering - recognizing the leaders behind projects that exemplify excellence and catalyze energy and investment in North American Infrastructure
Strategic Infrastructure Project of the Year
Nominees: NJ Wind Port, Northeast Maglev, SOO Green HDVC Link, Clean Path NY
Opportunity/Equity Project of the Year
Nominees: Toledo LSL Replacement Program, AES Ohio Smart Grid Program, Port of Montreal Contrecoeur Terminal
Engineering Project of the Year
Nominees: Howard Street Tunnel, B&P Tunnel Replacement Program, Lenexa Smart Infrastructure Showcase
Finance Project of the Year
Nominees: Crenshaw/LAX Metro Extension, William H. Gray III 30th Street Station, Redevelopment, Juarez Wastewater Collection System
Sustainability Project of the Year
Nominees: Empire Offshore Wind, Port of Corpus Christi Green Hydrogen Project, San Diego Airport New T1 Terminal

Presented by: Wayne Nichols, Director, Federal Strategy & Programs - Industry & Customer Innovation, Oracle
Speakers
Wayne Nichols, Director, Federal Strategy & Programs - Industry & Customer Innovation, Oracle

For twenty-five years, Wayne has advised both public and private sector owner/operators and owners' representatives on best practices to maximize technology investments that transform mega program and project delivery for successful outcomes. His industry experience includes public and private sector programs, public infrastructure, multi-modal transport, and power utilities.
Register with OETV to enjoy this content
This one time registration will open up a whole world of valuable video content from OpenExchange.tv and its network partners.
By clicking "View Content" you agree to the privacy policy