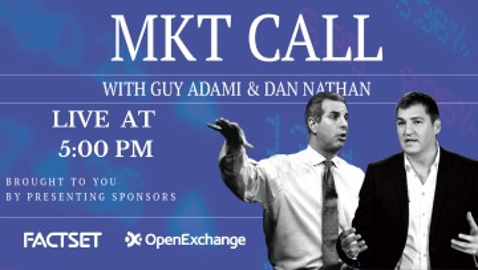 Description
On February 10th, Dan Nathan and Carter Worth brought an extra Special Edition of MKT Call live at 5pm. Dan and Carter were joined by Tina Fordham, Partner and Head of Global Political Strategy at Avonhurst. Sponsored by Factset and OpenExchange.
Tonight's Rundown:
Today's market price action. Charts: SPX vs US10YR Index
David Rosenberg inflation cure tweet… Recession
Deep dive on US10YR rates. Charts: US 5YR / 10YR Yields, ITB
Alphabet and Disney stock performance. Charts: GOOGL, DIS
Semiconductor breakout. Charts: Micron (MU) x3, NVD
Tina Fordham, Partner & Head of Global Political Strategy at Avonhurst talks Xi/Putin joint statement, Ukraine Gambit, & 2022 predictions
Speakers
Dan Nathan, Founder, RiskReversal

Principal, RiskReversal@RiskReversalDan is the principal founder of RiskReversal Advisors, founded in 2016, RiskReversal Advisors offers consulting services to investment banks, investment advisors, and private companies.Dan has spent the better part of the last 25 years as an equity & options trader.In 2011, Dan founded RiskReversal.com, a service dedicated to educating equity investors to the alternative ways to express their views in the public markets, by detailing the uses of equity options to better define risk, enhance yield and make use of leverage in a cost-effective manner. Dan was a regular panelist on CNBC's Options Action from 2009 through 2019, and has been a regular panelist on CNBC's Fast Money since 2011.

Carter Braxton Worth, CEO, Worth Charting

@CarterBWorth

Tina Fordham, Partner & Head of Global Political Strategy, Avonhurst

@Tinafordham1Tina Fordham is a leading thinker, practitioner and innovator in the field of global political analysis for financial markets. She is a partner and head of Global Political Strategy at Avonhurst, a London-based boutique advisory firm dedicated to serving the needs of sophisticated capital. In 2020 she became a member of the international advisory board at Cambridge University's new Centre for Geopolitics.
Register with OETV to enjoy this content
This one time registration will open up a whole world of valuable video content from OpenExchange.tv and its network partners.
By clicking "View Content" you agree to the privacy policy