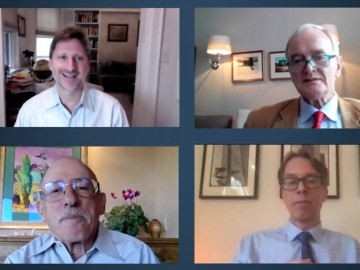 Description
Jonathan Rosenzweig discusses the threat of inflation as well as the long term implications for interest rates and stocks with Steve Antczak, the founder of TruMarkets; Willem Buiter, an independent economic advisor and visiting Professor of International & Public Affairs at Columbia University; and, David Shulman, a Senior Economist Emeritus at the UCLA Anderson Forecast. The engaging dialogue reflects the diverse backgrounds of the panelists, which include credit strategy, economics and equity markets, respectively. With the economy accelerating, a $1.9T stimulus on hand, and another $2.3T infrastructure bill on the horizon, this topic is the big "elephant in the room" – not just near term, but for years to come. There is no dearth of perspectives from politicians, economists, strategists, business leaders and the media. In this episode, our panelists sort through the noise surrounding these complex issues. Filmed on April 14th, 2021. Key Learnings: This episode addresses the outlook for the global economy post-Covid, the prospects for inflation and the relationship to labor market dynamics, assumptions currently priced (and those not priced) into interest rates, implications for the dollar, the effect of rising energy prices, key sensitivities for equities, the Fed's approach to the recovery, how investors can contextualize all of these factors within stock and bond portfolios, and more.
Speakers
Stephen Antczak,

Founder TruMarkets

Willem Buiter,

Economic Advisor, Visiting Professor of International & Public Affairs at Columbia University

David Shulman,

Senior Economist Emeritus, UCLA Anderson Forecast
Register with OETV to enjoy this content
This one time registration will open up a whole world of valuable video content from OpenExchange.tv and its network partners.
By clicking "View Content" you agree to the privacy policy